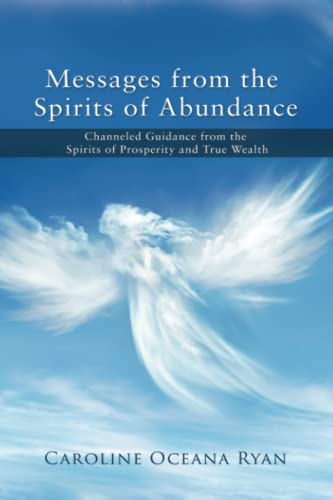 This encouraging collection of higher guidance, channeled from the consciousness of Money, Abundance, and Prosperity, offers fresh insights on how we can dissolve the inner blockages and lack programming humanity has suffered under for thousands of years.

Each chapter begins with a powerfully relevant question, sent in by Lightworkers all over the world, calling for practical guidance as well as spiritual insights on creating the kind of wealth consciousness that releases financial worry and feelings of unworthiness.
The Spirits of Abundance and Prosperity then answer, inviting us to join them on an illuminating journey into how money and Abundance can flow happily to us, including:
The Spirit of Money's guidance on relaxing in order to receive, and how the Divine Feminine is healing humanity's wounded Masculine, "hard work" beliefs
The Spirit of Abundance's simple method for connecting our energies to the constant flow of Divine Abundance
Abundance goddesses Lakshmi and Fortuna's insights on how to thrive in life, and not just "get by"
The Lord of Gold's wisdom on how we can heal and empower our souls to release trauma imprints, and reintegrate soul fragments
Empowering insights on co-Creation from the group of higher beings known as the Collective

"Money really is an aware energy that responds to our deep-seated feelings about it. Start changing the way you feel today, by reading this book!" – Bernadette Wulf, author of Money Magic and Director, Faehallows School of Magic – CelticMysterySchool.com

"Brilliant! Mind-blowing perspectives on Wealth that can change your current comprehension on how to access your financial freedom and peace of mind." – Sandra Belen Thomas, Soul Blueprint Codes Illuminator, Alchemist, and Ascension Guide – SandraThomas.Thinkific.com

"Brings through the energy of prosperity, joy and gratitude with every word. A must-read for those wanting to shift into the New Earth reality of attracting, manifesting, and receiving." – Sherri Bausch, Quantum Energy Practitioner & Coach, SherriBausch.com
Tap into the portals to Abundance that are right inside your spirit.
Check out/ Buy here