Every dedicated Light Worker knows that if one wants to clean house completely,one has to bring light to every corner of the house,every hidden spot.
There are few things that came to my attention while connecting the dots from channeled messages and what we can do to bring more Light and help any sister and brother that knows too much and is kept in prison.
One of them is Dave McCann,Irish man framed in California.
Reading  the complete message from Montague Keen via Veronica Keen here will help you understand further and see how you can assist.
http://sananda.website/montague-keen-via-veronica-keen-january-14th-2018/
Montague Keen has been insisting that if this man gets released,the information he will share will take the cabal out of the picture once and for all in just 3 hours.
Remember once their crimes are fully exposed to send Love and Light always and not identify with what you observe.
Another thing you can do is to allow more Divine Love and Light do the work for you,instead of trying constantly to read all intel and posts on the internet.
To allow means to go within and hear the voice within while while focusing on your breath and also participating in global synchronised meditations at specific times with specific purpose.
This is a very good website where you can find many meditations with specific purpose to accelerate healing on the planet.I invite you to have a look and participate as much as you can on a daily basis to one or more of these meditations.Remember that no meditation is lost time,one always rips the benefits and lessons of each and every meditation,clarity and focus and pure joy are the immediate effects.So why not use this tool sisters and brothers?
https://welovemassmeditation.blogspot.be
Focus more on light and love and less on the money for love is the true energy exchange of the cosmos and is your greatest asset, and you are my greatest treasure – Father God –
http://sananda.website/message-from-father-god-via-galaxygirl-january-20th-2018/
And so to end this,my invitation for you is to go deeper within on a daily basis and more frequently,Your God spark is needed and each one of you has this special ability to affect change for The Highest Good For All,easy to use from the comfort of you house , this is how beautiful and magnificent a Human Being is,this is how powerful and amazing you are.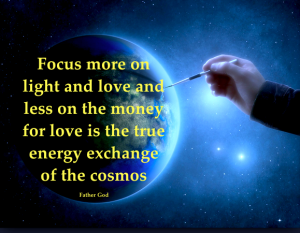 Love Yourself Always,Have a Nice Bath with etheric oils,Take time to please yourself in the simple things of Life as the best things are free as the air we breath and Join Us In Joy and Feel The Joy.In The Now.
Thank You,I Love You
Nikos Akrivos