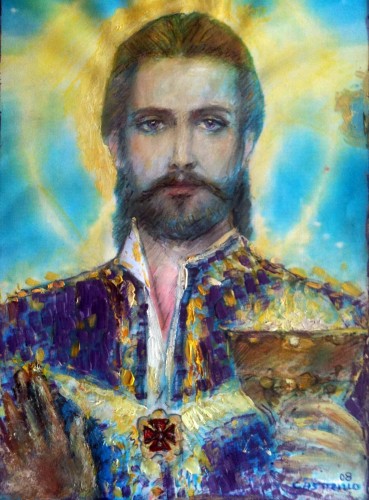 Dear Ground Crew:

As I'm starting to write this message, the Master St. Germain came to me passionately and wants to tell you some things.
"Greetings, I am St. Germain. I am the Master of the Violet Flame. I brought you the Violet Flame for transmutation and you need it now! You need to use the tools that have been given to you. Please bring them all up and add your gifts and abilities with the use of these tools and even more.
"We are extremely busy in the Light Realms watching over you and caring about your every need. This is the time for magic and miracles. I am an alchemist and I have taught many of you how to use these gifts to change matter. You will see how matter and form are changing now right before your eyes. Everything is changing. This is about your transformation and the transfiguration of the earth.
"You might as well start accepting that nothing is going to be the way that it was. I understand this is difficult to accept. Holding onto the past will not serve you. You can grieve the loss of what you had but what is necessary is for you to recreate your lives. You will be at a much higher frequency. The old ways of doing things will not support your higher frequencies.
"It is incumbent upon you to make use of the light from within, from your heart, and from your connection with the Creator. When you are about God's business, you will feel great! Your hearts will be singing and your path will open up even more. Surely, this is how you will want to go about your lives.
"The energies from the eclipses, the Solar Eclipse from October 25 and the Lunar Eclipse on November 8, will exacerbate your need to go within. It will require you to go deeply within to find your truth because you are in uncharted territory. Right now, I could tell the whole world everything that I know, and what to do, and some of you would believe me and take me up on my truth and wisdom. Others are not ready for their freedom to be who they truly are. Freedom is what I stand for and it is what everyone needs. You need to let go of your old identity of who you thought you were and what you had to do. This inner development takes strength and will require you to use your reserves, and every bit of inner strength that you have. You'll be calling forth a new day, and a New Earth.
"We are here to help you do it but you must dig deeply from within. This is where your guidance from Source resides. You are destined to be your sovereign true selves. Whatever anyone else has told you about who you really are, such as parents, family teachers, friends and others, is only a small part of your I AM presence and who you are. The question is how can they tell you who you are if they don't even really know who they are? Very few people do.
"You are going through right now the greatest show on the earth that anyone has ever seen. It is remarkable. It is filled with transparency, new colors, sparkles, and things appearing that you have never seen before. The frequencies have been waiting for you to use for eons. So let's get ready. Activate your DNA codes and connect with Source within to elevate the earth and all of life. I am serious about this, ground crew. This is your purpose and your destiny unfolding. You are connecting to your true source/power and you are going to get the job done!
"This truly is your great awakening! I am here to tell you to plug Source into your hearts and go as deeply as you can. You can do it all. We are interconnected and each of us has a role to play. I have my role and you have yours. Some people know I like to be called "Mr. Wonderful!" I like this because I like to mirror back to you how wonderful you are and what wonderful times you have in store for you for your New Earth and your heaven on earth.
"So dear ones, let the good times roll, and the old times go flat. What is most important is the now moment, and your full presence, as you go about your new ways of living. Please be mindful of setting good examples for others who are also awakening but might not be at your level. It doesn't matter. It doesn't serve to compare yourself to others. Simply be the best you that you can be! That's what the Creator requires of us, to be the best co- creations with God that we can possibly be.
"It was time for a little pep talk from me. I know you take my words well and will share this message with others. It's time to turn the lights on in the earth's auditorium and let them shine! I AM St. Germain. Please use my Violet Flame! It will help make the world a better place."