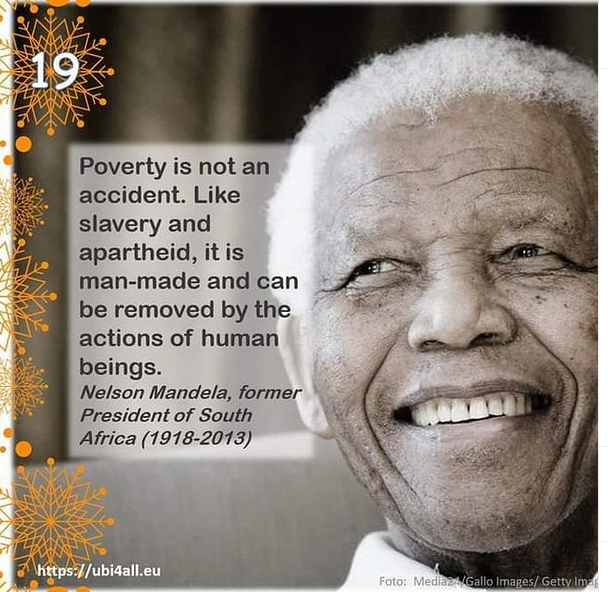 https://www.instagram.com/p/CJ_UKKNMZGD/
⁉️ UBI is a monthly payment you as a resident will receive unconditionally for your whole life. It is a human right.
It has 4 criteria:
1️⃣    Universal – Every person, regardless of age, descent, place of residence, profession etc. will be entitled to receive it.
2️⃣    Individual – It will be independent of marital status, cohabitation or household configuration, or of the income or property of other household or family members.
3️⃣    Unconditional – It will not depend on any preconditions, whether an obligation to take paid employment, to be involved in community service, or to behave according to traditional gender roles. Nor will it be subject to income, savings or property limits.
4️⃣    Sufficient – The amount should provide a decent standard of living, which meets society's social and cultural standards in the country concerned.

In this way UBI reinforces the public system and gives you a safety net for a better life!
Sign here :https://eci.ec.europa.eu/014/public/#/screen/home
✊𝐁𝐫𝐢𝐧𝐠 𝐔𝐁𝐈 𝐢𝐧 𝐄𝐮𝐫𝐨𝐩𝐞 𝐡𝐭𝐭𝐩𝐬://𝐞𝐜𝐢-𝐮𝐛𝐢.𝐞𝐮/
👉𝐏𝐚𝐫𝐭𝐢𝐜𝐢𝐩𝐚𝐭𝐞 𝐭𝐨 𝐰𝐢𝐧 𝐚𝐧𝐝 𝐡𝐞𝐥𝐩 𝐭𝐨 𝐟𝐮𝐧𝐝 𝐢𝐭 𝐥𝐢𝐧𝐤 𝐭𝐨 𝐛𝐢𝐨
#checkoutbasicincome#UBI#basicincome#humanright